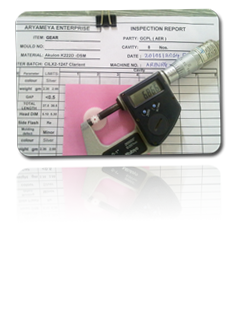 Quality
We make a detail specification for each & every item manufactured with us. A QA team draws periodic sample and maintains systematic records of the same. Any deviation from specifications is promptly dealt with.

The measuring tools are calibrated timely and kept in best conditions.

Plastic Raw material is procured from direct distributors and a record of Grade & Batch No. is maintained for traceability.

Machine parameter are honed to perfection for best molding quality and preserved. Machines Statistical parameters functions are fully utilized to achieve best setting of parameters. The same way packing is also systematic with manufacturing records. Any deviations arising out of mold wear or breakdown is promptly attended. We take at most care of tools used in production. The backbone of our Quality is well trained team of our employees. We believe in training all the levels of our staff.